In the last year, UK energy customers have seen a huge jump in their bills. Industry regulator Ofgem raised the 'energy price cap' - which controls the maximum amount customers on Standard Variable Tariffs can be charged for gas and electricity three times. The surging cost of gas is pushing energy prices to record highs and is showing no signs of slowing down.
Ofgem review the energy price cap twice a year, with changes taking effect on 1st April and 1st October, taking into account how wholesale costs have changed over the preceding 6 months.
In 2021, the cap increased by £235 per year for the average UK household. The latest hike adds a shocking £693 which takes the cap up to £1971 a year.
But that's not the end of this crisis. ismybillfair analysts & the Governments finance watchdog the Office for Budget Responsibility (OBR), are predicting a further £830 increase in October 2022. (see here). The two relevant sections are P11 Section 1.2 and P14 Section 1.13
This would push average bills to an unbelievable £2801 per year – up from £1042 just 18 months earlier.
Rising prices: are you affected?
The soaring cost of gas means that this is an industry-wide issue, with every supplier and every customer likely to be affected at some point. Many smaller energy firms are going bankrupt, as they cannot charge high enough prices to cover their spiralling costs.
In January 2021 there were 70 energy retailers in the UK. Analysis from The Times and Baringa suggests this number could fall to just 10 suppliers within the year.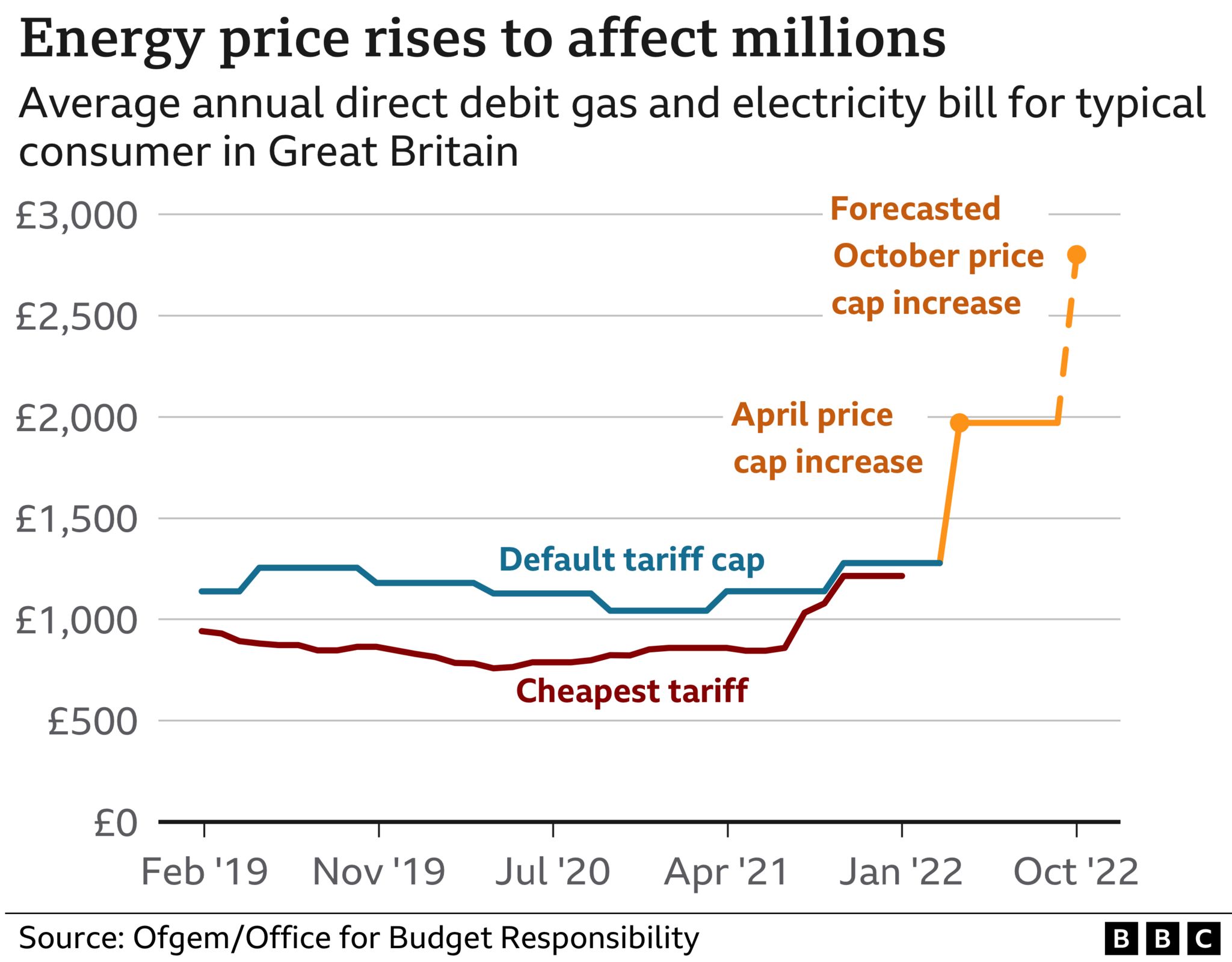 Source: BBC news, April 2022
The 'perfect storm' behind high prices
The costs of supplying energy have increased sharply over the last six months. Ofgem said gas prices are hitting a record high due to global demand, as countries are using more due to the easing of pandemic restrictions and inflationary pressures. If that wasn't bad enough, much of the worlds gas is produced by Russia and piped to Europe through Ukraine. This has resulted in wild fluctuations in the price energy companies have to pay for the gas they supply and huge uncertainty over whether countries will have enough gas to meet their needs.
Gas prices soaring to unprecedented highs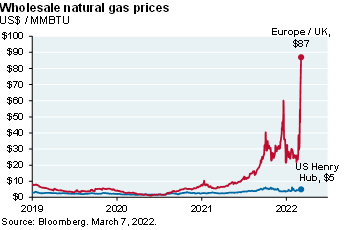 Rocketing wholesale costs mean suppliers have to pay more for it, but they can't recover their costs fast enough due to the price cap. Ofgem allows energy suppliers to charge higher prices to recover these costs by raising the price cap, but this only happens every 6 months. The price cap effectively sets the price of standard variable tariffs, which most households are now on.
Geopolitical factors, including huge concerns about restricted supply from Russia, are causing pressure.
In summary, the 'perfect storm' of price pressure can be explained by: -
Surging demand across the world, as economies recover from the pandemic.
The war in Ukraine.
Resulting in Gas wholesale pricing climbing to record highs.
What action can I take to minimise the impact?
What action can I take to minimise the impact?

Energy companies are reacting to the high wholesale costs by adjusting and withdrawing their tariffs from the market and replacing them with much higher tariffs. Suppliers have no offers available that are cheaper or even close to the standard variable tariff.
This leaves existing customers with the choice of taking a new fixed deal at a much higher price, or letting their present deal run out.
Until recently, fixed deals would have saved you money in the longer term, but with prices sky high at the moment, we think most people would be better off staying on the standard variable tariff up until wholesale prices drop. At that point, we expect lower tariffs to come into the market and we will be able to recommend the right one for each customer.
Whilst you can't avoid higher prices, as your overall bill is almost certain to increase whoever you are with, you can make sure that you're on the best value tariff with your current supplier.

How ismybillfair can help: -

Check your bill: See where you stand vs. other customers with your supplier.
See your future price: W

e'll show you how much you will pay once new prices come into affect.

Register: Leave us your email and we will contact you as soon as your supplier has a better deal for you.
Things will certainly change, and new fairer deals for existing customers will come along in the coming months. When they do, we'll make sure to update our recommendations. We're here to help keep as many pounds in your pocket as possible.
Best wishes,
Alex Perrin
Co-founder and CEO, ismybillfair.com