In the last year, UK energy customers have seen a huge jump in their bills. Industry regulator Ofgem raised the 'energy price cap' - which controls the maximum amount customers on Standard Variable Tariffs can be charged for gas and electricity multiple times. The surging cost of wholesale energy has already pushed bills to record highs and will get much worse this winter.
Ofgem now set the energy price cap every 3 months, taking into account how wholesale costs have changed over the preceding 6 months.
For the last few years, the cap has hovered around £1000 per year for the average UK household. In April 2022 it rose to a shocking £1971 a year.
But that's just the start of this crisis. Ofgem have now announced an 80% increase from October to £3549. Energy experts and the BBC are now predicting a rise much further in January and to an unbelievable £6600 per year next April.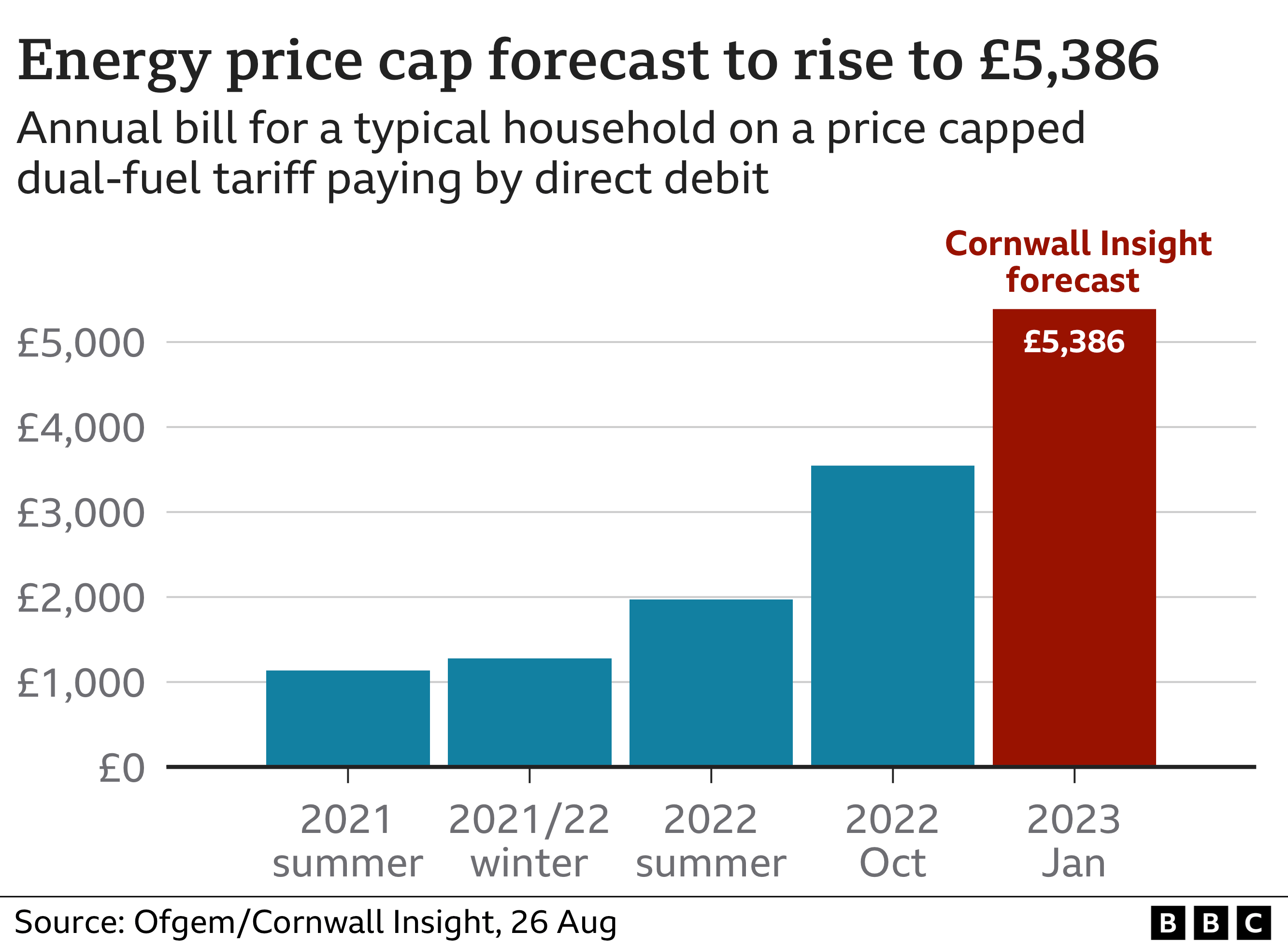 Rising prices: Everyone is affected
The soaring cost of gas means that this is an industry-wide issue, with every supplier and every customer likely to be affected at some point. Many smaller energy firms have already gone bankrupt.
Hardly any customers have been able to escape the huge increases in bills.
Those on Standard Variable Tariffs (SVTs) have seen these increase in line with the price cap
Those on a fixed tariff have found that as their fixed term ended, there were no fixed deals available in the market priced below the cap, and have therefore defaulted to the SVT
Millions more have seen their supplier go bust, and were moved to a new supplier by the regulator Ofgem – and also put on the SVT
The 'perfect storm' behind surging prices

The costs of supplying energy have increased massively over the last year – at peak, prices reached 10 times their normal levels. Ofgem said gas prices are hitting a record high due to global demand, as countries are using more due to the easing of pandemic restrictions and inflationary pressures. If that wasn't bad enough, a huge amount of gas used in continental Europe is produced by Russia and piped to Europe through Ukraine. The war has resulted in wild fluctuations in the price energy companies have to pay for the gas they supply and huge uncertainty over whether countries will have enough gas to meet their needs.
Even though we in the UK don't use much Russian gas, the global market means that the wholesale price has increased for our suppliers as well, and is gradually being passed through to our bills. Rocketing wholesale costs mean suppliers have to pay more for it, but they can't recover their costs fast enough due to the price cap. Even though all our bills have already gone up massively, we've actually all been sheltered from the full impact of wholesale price rises by the cap. But that "sheltering" is really just a delay – hence the huge cap increase this October.
In summary, the 'perfect storm' of price pressure can be explained by: -
Surging demand across the world, as economies recover from the pandemic.
The war in Ukraine.
Resulting in Gas wholesale pricing climbing to record highs.
Soaring energy prices - here to stay?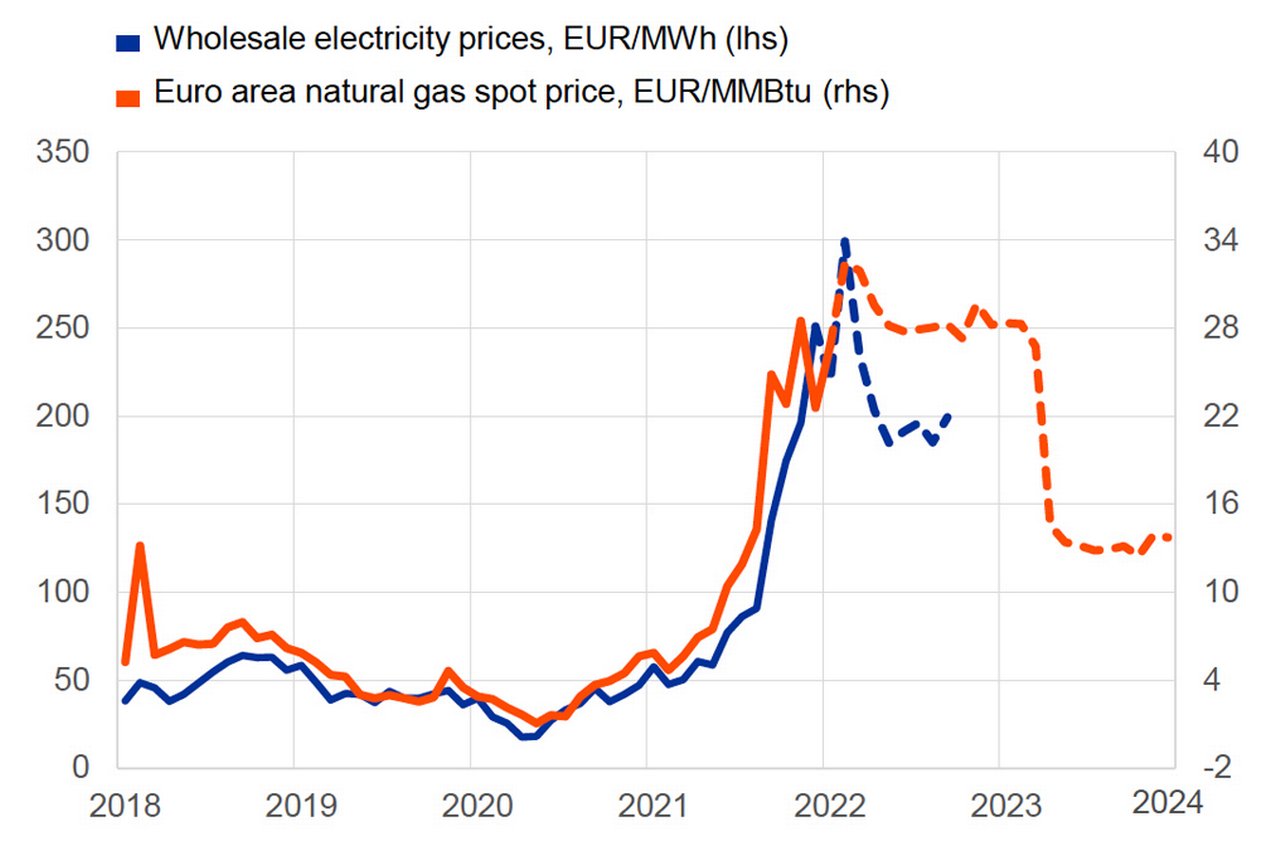 Source - European Central Bank
What can you do to minimise the impact?
Energy companies have already reacted to the high wholesale costs by adjusting and withdrawing their tariffs from the market and replacing them with much higher tariffs. Suppliers have no fixed offers available that are cheaper or even close to the standard variable tariff. (And only the cap is preventing them from charging us all much more for the SVT – they have been losing money on SVTs due to even higher wholesale costs).
This leaves existing customers with the choice of taking a new fixed deal at a much higher price, or letting their present deal run out and defaulting to the SVT.
Until recently, fixed deals would have saved you money in the longer term, but with prices sky high at the moment, we think most people would be better off staying on the standard variable tariff up until wholesale prices drop. At that point, we expect lower tariffs to come into the market and we will be able to recommend the right one for each customer.
Whilst you can't avoid higher prices, as your overall bill is almost certain to increase whoever you are with, you can make sure that you're on the best value tariff with your current supplier.

How ismybillfair can help: -

Check your bill: See where you stand vs. other customers with your supplier.
See your future price: W

e'll show you how much you will pay once new prices come into affect.

Register: Leave us your email and we will contact you as soon as your supplier has a better deal for you.
As the cap increases even further in coming months, dragging the SVT higher, we expect that we will reach a point later in 2022 where there are new fairer fixed deals for existing customers. When this happens, we'll make sure to update our recommendations. We're here to help keep as many pounds in your pocket as possible.
Best wishes,
Alex Perrin
Co-founder and CEO, ismybillfair.com