The energy price cap is reviewed every 3 months. Whilst consumers were left reeling by the huge increase that happened on 1st April, UK energy industry watchdog Ofgem has announced another rise that will take effect on 1st October. The cap sets the maximum amount that an energy supplier can charge customer who are on a standard variable tariff. The majority of energy firms price their standard variable tariff (also known as the standard rolling tariff, SVT, or flexible tariff) either at that price level, or a fraction under.
With approx. 80% of UK energy customers on a standard tariff at the moment, changes in the price cap level have a big impact on household finances.
It's important to know that the cap is not really a cap on the total amount your bill could reach; it is a cap on the £ per unit, so the more you use the more you will pay. However, when talking about the cap, and especially when predicting where it might go, experts tend to do so by expressing what a cap would mean for an average home, as this makes it more real and easier to understand. And by "average home", this means a home with average usage levels of both electricity and gas.

Leading experts make their predictions
Ofgem's latest cap change saw the price cap jump by 80% per household from 1st October, 2022, to an eye watering £3549 per year for an average home's energy bill. This record breaking rise was on top of the £700 jump that came into effect in April 2022.
However, since then, energy wholesale costs have gone even higher, and experts including Martin Lewis, the BBC and energy analysts have been predicting further huge rises in the winter.
They predict that on 1st January 2023 the cap will increase to an unprecedented £5386. By April 2023 the average bill for customers on SVT could exceed an unbelievable £6600 per year - and the market is still rising....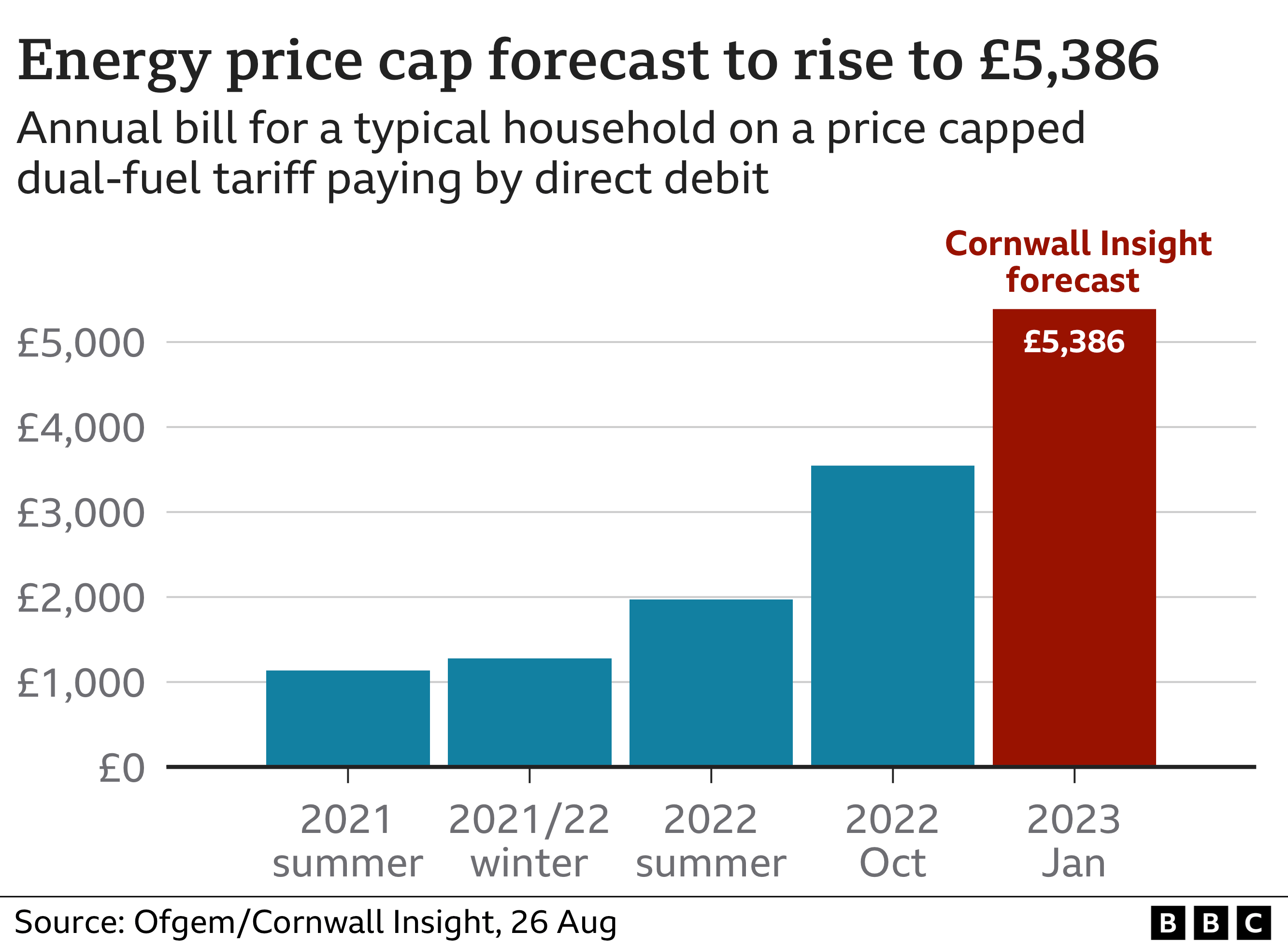 Why are energy bills so high and still rising?
We haven't seen energy bills go up like this in a generation. You might wonder why experts say they'll increase again, and why they are so sure that it's going to happen?
In the UK energy industry, many things have been changing at an incredible speed.
Here's a summary of the main events since September 2021: -
The cost of wholesale gas has increased by a multiple of 8 since Summer 2021. This is the wholesale price paid by suppliers to producers to buy the gas they need to sell on to energy customers. Such a sudden and large increase is unprecedented.
Energy suppliers have been losing millions of pounds as a result. Some consumers still have fixed deals and prices in place, and more importantly the price cap has prevented suppliers from raising prices at the same rate as the wholesale costs they have incurred. Whilst the cap has nearly doubled, and is set to reach treble the level of early 2021, it hasn't gone up by 8 times – so it has been costing suppliers much more to buy that gas, then they receive from home energy customers.
Meanwhile energy producers have been raking it in! The higher wholesale prices have meant much higher revenues for the same volume of gas (and oil) produced – hence all the pressure on the Government to introduce a windfall tax. So some energy companies are going bust, others are making huge profits – it's helpful to distinguish between suppliers and producers rather than just talking about "energy companies".
Suppliers stopped offering low price deals, and for a while, all deals. Bigger firms haven't wanted to acquire new customers, or move existing customers to fixed deals priced below the cap, as these new deals would lose money.
A record number of small energy suppliers have gone bust. 23 small and mid-sized energy firms have collapsed so far, leaving a total of 2.7m customers forced to join a new supplier. Bulb Energy has been placed into 'special administration', pushing a further 1.7 million customers in limbo. More companies could follow, with a third of remaining small energy firms at risk of collapse (The Telegraph).
Taking on customers from failed companies is expensive. Transferring customers from bankrupt energy firms to more stable ones is a complex process. Energy companies have incurred additional costs that they hadn't necessarily expected six months ago.
What's going to happen next to energy bills?
The energy price cap is designed to help protect customers from these high costs, as it limits how much firms can charge. And during Autumn and Winter 2021 it did provide some protection. But in doing so it meant that energy suppliers who have to buy energy on the wholesale market were heavily loss-making.
However, the cap is calculated using a formula based on wholesale market costs, so eventually the costs will feed through to consumers bills – which started happening with the 1st April cap increase to £1971 and will continue through the winter.
Why is the jump so big, and why all in one go?
The increase is to help energy companies recover from this period of higher costs and keep the remaining firms operating, in an effort to minimise further disruption to customers if more firms go bankrupt
Unfortunately, despite the current cap softening the blow, the impact has been delayed rather than removed, and the customer will always have to pay – eventually.
What does all this mean for UK consumers?
It's likely that the best thing to do is to stay where you are and not change your tariff just yet . This is because fixed deals – usually offering good value over the long term - are still priced high, with no/low savings in the short term.
Keep your eyes peeled for new deals – and be ready to beat the higher cap
As the cap increases even further in the Autumn, suppliers will almost certainly reset the SVT at this new higher level, so if you take no action you will end up paying a huge amount more. However, we expect that we will reach a point later in 2022 where there are new fairer fixed deals for existing customers which are below this new, higher cap level
Deals might not look attractive at first, but they might deliver savings when compared to staying on the standard tariff as that rises later this year
(adsbygoogle = window.adsbygoogle || []).push({});